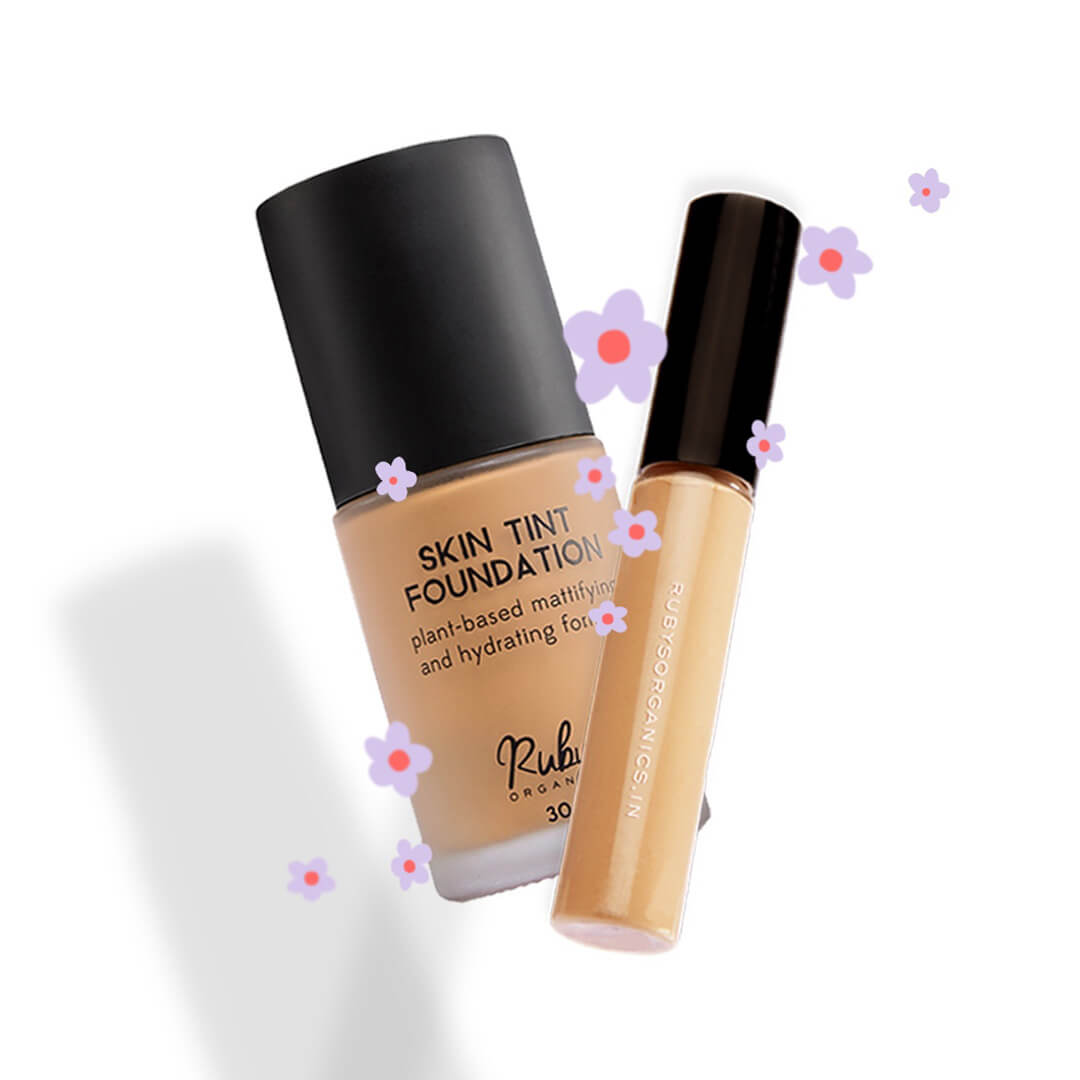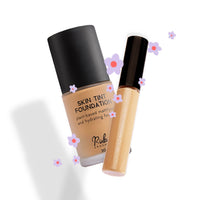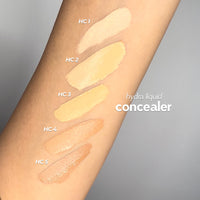 Combos
The Clean Base Duo
Skin Tint Mattifying Foundation + Hydra Liquid Concealer
Shop 2 full-size bestsellers for less! Our Clean Base Duo is ideal for those looking for safe, vegan and petrochemical-free products that reveal their best and healthiest skin.
This customisable duo includes our:

Skin Tint Mattifying Foundation - available in 7 shades
Hydra Liquid Concealer - available in 5 shades
Need help? CHAT WITH OUR BEAUTY EXPERTS NOW to find the right concealer and foundation shade for you!
EMAIL US AT CONSULT@RUBYSORGANICS.IN
This foundation is too goood
I'm wearing the shade L01.5 and it's such a good product. Very easy to use and light on face and doesn't feel heavy on skin. Perfect for those no makeup makeup looks.
Is this foundation the best or what?
It gives a very smooth finish.
Just glides onto my skin.
Matches my skin tone perfectly (Shade M02). Feels super light, I also worked out wearing it and trust me, I hardly even realised I had the foundation on.
I didn't even need a brush to apply, fingers work perfectly as well.
Found the shade of my dreams, strongly recommend you to buy it.
In love with this product.
Super light weight
Super light weight formula that is light and hydrating, and gives a very natural finish
Looks so natural. I'm impressed
I love this foundation and concealer combo! It's so easy to apply. I also like that it's not too heavy on my skin, so it looks natural instead of caked on.
Very good
I've been looking for a foundation and concealer combo that would cover my skin up, but still look natural. I was hesitant to try this because I'm super picky about my makeup, but I'm so glad I did!
I love Ruby's Organics
I love this combo sooo much. I have always wanted to try it, but I never had the courage to order it. But now that I am getting married and will be wearing more makeup than ever, I decided to give it a try.
I ordered the foundation and concealer combo and was not disappointed. The foundation matched perfectly with my skin tone and hasn't made me break out or cause any irritation. The concealer is so lightweight but still has enough coverage to cover up any blemishes or under eye circles that might show through my foundation.
My first foundation
I have always wanted to try the Ruby's Organics] foundation, but I was always scared it would look cakey on my skin. Finally, I got a chance to try it and I'm so glad I did! The foundation is light-weight and has a nice feel to it. It doesn't feel like you're wearing anything at all—it's just there when you need it to be!
Budget friendly combo
This is definitely a great combo for anyone looking for an affordable option that works just as well as higher-end products at a fraction of their price!
Foundation without chemicals
I love that it's organic and non-cakey, which means that my skin doesn't feel like it's being suffocated by all the chemicals in regular foundations. This one is also good for your skin because it has more antioxidants than conventional foundations do!
Highly recommend it
I am obsessed with this combo! It feels like you have nothing on, but looks amazing. It doesn't feel heavy or cakey at all, and it actually covers up most of my blemishes. I would recommend this to anyone who loves a natural-looking finish.
Beauty for Everybody
At Ruby's Organics, we want to encourage a culture that supports and values individuality and self-expression over anything else. We cannot make false promises and claims because truly, the journey to discovering beauty is inward and transcends far beyond the surface. Everybody deserves to feel beautiful and makeup is simply a tool.
Our goal is to bring you clean, uncomplicated, and purposeful products built on innovative
plant-based formulas that do more than just sit on the surface but add nourishment with active skin-care ingredients.