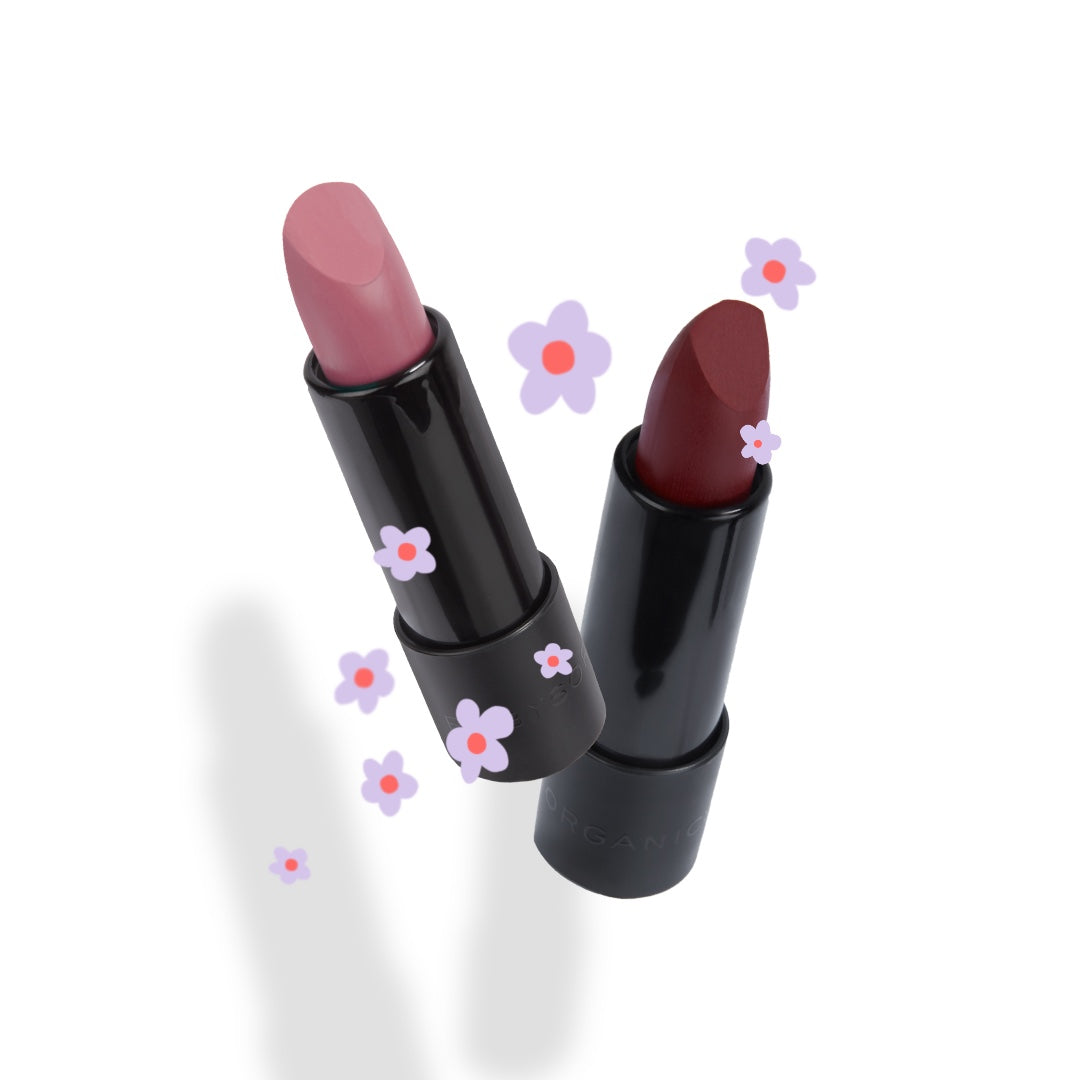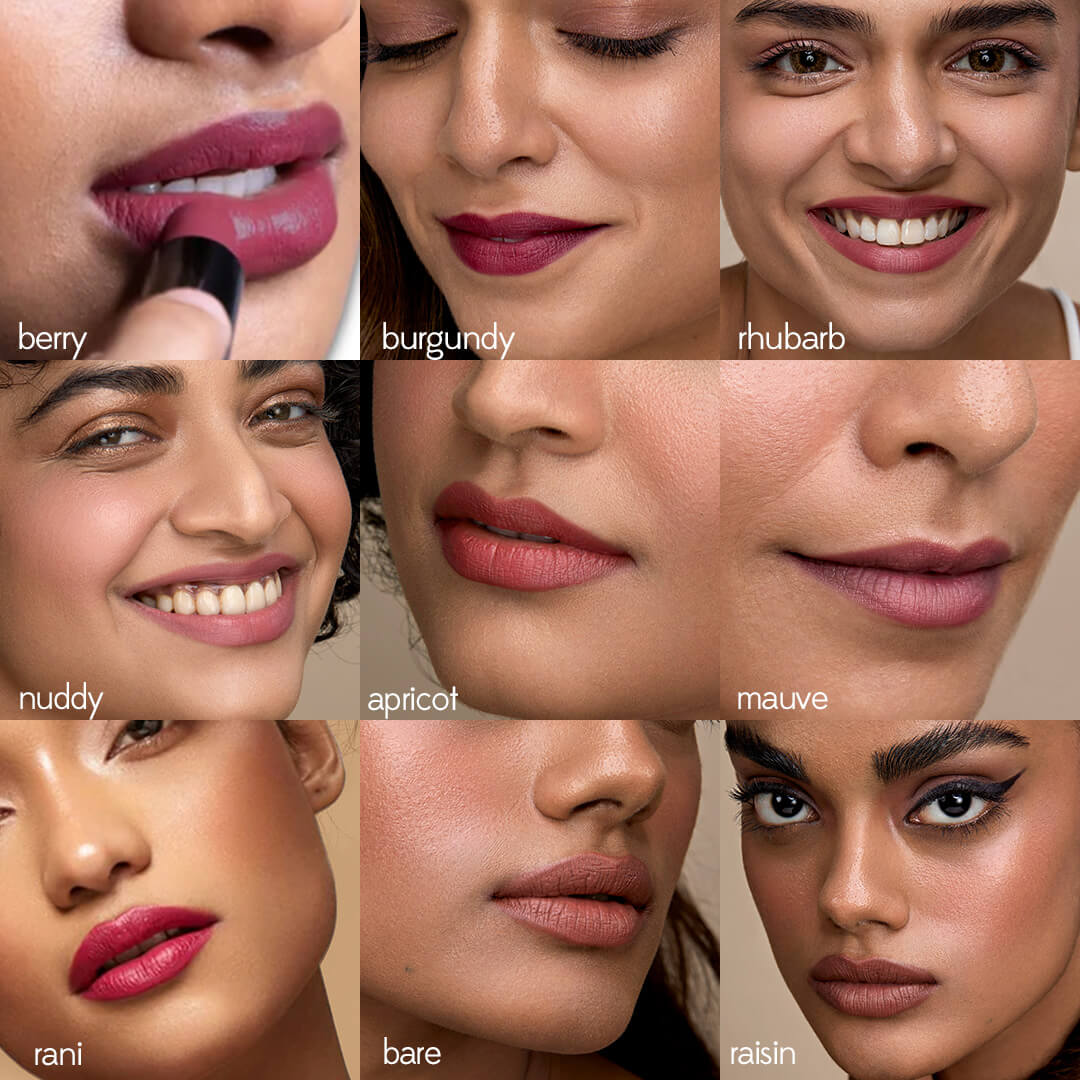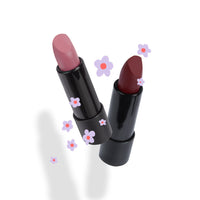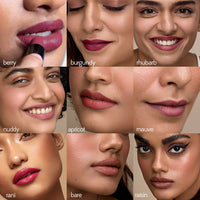 Combos
Two Lipsticks
Shop 2 full-sized Semi-Matte Lipsticks for less. Choose 2 from 11 shades that suit all skin tones. Made with natural ingredients that hydrate lips and leave them feeling ultra soft. These are lipsticks with all the benefits of a lip balm!
Berry - Exactly what i was looking for!!
I was looking for everyday all day wear lipstick that is matte and does not dry up my lips,this is exactly the same.Thank you so much for this love it.Wearing shade Berry in the pic.
Perfect Nude for Brown Skin
I've been searching for a nude lipstick for brown skin since a long time. Bought this one on the recommendation of my friend. It's a perfect nude for every day wear and something you can use when you want to wear make up but not look very dolled up. However for 990₹ I expected this lipstick to be more moisturising as it is a little dry and does not glide on as easily as one would expect. You'll definitely need a lip balm before or along with it to make it glide easily.
Hi Sameen,
Thank you for taking the time to review your purchase.
Our lipsticks contain natural oils that could solidify in cooler temperatures. If the surface layer of the lipstick appears dry, no need to fret, it can be easily activated by the warmth of your skin. Sweep the lipstick back & forth over the back of your hand and watch the goodness melt from within making it ready to use! Hope this helps!
Apricot Lipstick 💄..it's so smooth
Rani - Bright nice shade
It's a really nice bright pink shade. Looks amazing. Only thing I didn't like is that it's a bit drying. Considering it's Ruby's I thought it would be a bit nourishing. Maybe they can rework the formula to accommodate that. Otherwise it's a pretty shade.
Hey Foram,
Thank you so much for your feedback! So glad you like the shades Rani and Rhubarb.
Our entire makeup collection, including our lipsticks, is made with nourishing plant butters, oils and waxes. These ingredients also react and adapt to temperature changes, making the lipsticks feel a little dryer in colder weather. What you could do is warm the product on the back of your hand before applying. And of course, as with wearing any lipstick, don't forget to hydrate your lips with your favourite balm beforehand =) Hope this helps.
Team Ruby's
Rhubarb - My fav lipstick shade now
I simply love this shade. It's not exactly nude but neither is it too bold. It's such a wonderful shade to wear daily to work. Only downside is that I expected it to be a bit more nourishing. It does feel a bit dry on the lips especially during winters. That's the only reason for taking off 1 star. Otherwise it's a really nice shade.
Amazing products
Lipstick is very creamy and yet gives matt Finish!
Excellent quality and elegant shade!
Works wonderfully well for me even though I have sensitive skin! Love the purity in Ruby's products!
Bare
This is my second review of this beauty of a lipstick - Bare! What a fantastic formulation - creamy, luxurious and feels as comfortable as lipbalm on the lips. Doesn't require moisturizing the lips and easy to remove. The color stays put for really long and reapplying seems so blissful! A big shout out to the ever-polite and wonderful customer service!
Beauty for Everybody
At Ruby's Organics, we want to encourage a culture that supports and values individuality and self-expression over anything else. We cannot make false promises and claims because truly, the journey to discovering beauty is inward and transcends far beyond the surface. Everybody deserves to feel beautiful and makeup is simply a tool.
Our goal is to bring you clean, uncomplicated, and purposeful products built on innovative
plant-based formulas that do more than just sit on the surface but add nourishment with active skin-care ingredients.